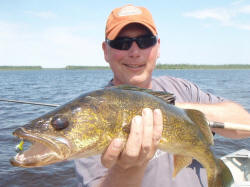 Ontario Fishing Trips. Come discover some of Ontario's leading fishing lodges in Canada. Choose from awesome American Plan fishing resorts, spotless and comfy housekeeping cottages or isolated fly in outposts. Explore the wilderness on a backwoods canoe trip or enjoy an amazing houseboat holiday. Ontario is an area covering 400,000 square miles with over 250,000 lake and river systems – so there will be no trouble discovering a first-class fishing spot. Fish for small and largemouth bass, walleye, northern pike, muskie, lake trout, perch, crappie and even brook trout and aurora trout! Along with the great fishing opportunities, Ontario offers some of Canada's greatest hunting for deer, black bear, moose, ducks and partridge.
Ontario's best fishing is located in northern Ontario. Lac Seul, Nipissing, Red Lake, Temagami, Georgian Bay and Lake of the Woods are names that are well known to fishermen across America. There are numerous other lakes and rivers that present fantastic fishing. Famous areas such as Red Lake, Lake of the Woods, North Bay, Gowganda, Wawa, Chapleau, Timmins and Manitoulin Island are all here. From the Ottawa River in the east to Shoal Lake in the west and north to the shore of James and Hudson's Bay, a lodge, resort or outpost fishing holiday is available to meet all your needs Ontario has some of Canada's most stunning countrysides and scenery.
Ontario lodges in only offer great fishing, many are also perfect spots for a great family vacation. Children will take pleasure in the wilderness, the flora and fauna and the many things to do that awaits them. Biking, hiking, berry picking, photography, swimming and boating are just some of things to do. As you settle down along a sandy pristine beach, you'll love watching your kids build castles and play in clean, clear lakes. Bring your camera to cpture the special moments of their Ontario excursions. You can also take in one of the many celebrations and events which happen all through the spring, summer and fall months.
During the winter, enjoy a snowmobile ride on groomed snowmobile trails that run for hundreds of kilometers through the Canadian shield and forest. Take a trip to take in some ice-fishing, cross country skiing or even snowshoeing. After a adventurous trip in the wilderness, come back to your cabin and enjoy yourself by a hot fire!
Click here to get information from a variety of Fishing Lodges
Photos Courtesy of Mike Bolger


Accommodations
American Plan
Housekeeping
Outposts
Fishing
Walleye (pickerel)
Northern Pike
Muskie
Lake Trout
Brook Trout
Bass
Perch
Regional Information







French River
Lake of the Woods
Red Lake
Dryden
Georgian Bay
Wawa
Chapleau
Gogama
Temagami
Lac Seul
Sioux Lookout
Red Cedar Lake - Marten River
Lake Nipissing
Lake Nosbonsing
Muskokas
Bay Of Quinte
Kawarthas
Biscotasing
Lady Evelyn Lake
Ottawa
Rideau Lakes